Here's my round up of a few of my favorite things at this moment.
Place I'm Loving:
Cape May, New Jersey. We're here on vacation this week and it's such a lovely, laid back and fabulous place to relax and enjoy the real Jersey Shore.
Recipe I'm Loving:
Creamy Chicken Marsala Pasta
. I made this for the first time last week and it was a huge hit with the kids and the hubby.
App I'm Loving:
Benjamin Moore's Color Capture. Take a picture of anything and the app will tell you the paint color that's an exact match.
App I'm Loving, Part Deux:
Hanging With Friends. Beware: you'll be addicted before you know it.
Book I'm Loving:
You probably already visit Ree Drummond's blog, but do yourself a favor and get yourself a copy of
The Pioneer Woman: Black Heels to Tractor Wheels - A Love Story
too. It's such a great summer book -- and it's being made into a movie starring Reese Witherspoon!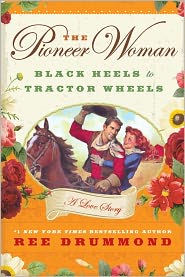 Style Idea I'm Loving:
Nude nails with silver glitter tips. Oh so pretty!
Guilty Pleasure I'm Loving:
I swore when they picked Ashley to be
The Bachelorette
, I wasn't going to watch and yet here I am, sucked into the vortex of ridiculous once again. Chris Harrison, I wish I could quit you and your blasted roses!
Snack I'm Loving:
Reese's Peanut Butter Cup Minis. Cause minis aren't as bad for you, right?
Online Magazine I'm Loving:
Every issue of
Lonny
puts a smile on my face!
Purchase for Our New House That I'm Loving:
I can't wait until
this sassy little number
is installed in our guest bathroom!
Funny I'm Loving:
Tee hee.
I'd love to hear about the things you're loving right now! Share the app, movie, book, craft idea, TV show, whatever that's got you giddy in the comments and your picks might be included in next week's
TEN ON TUESDAY
feature.
Please note that this list is made up of things I actually use, read, watch, try, etc. and truly enjoy. These opinions are my own and I was not compensated in any way to share them here.