As part of
PROJECT SECRET SANTA
, I reached out to some of my favorite bakers and asked them to share some secrets and recipes to help all of you with your holiday gifting and baking.
Today, I've got some amazing recipes from one of my blog buddies, Stacy from
Scrumptious Swirls
. I had the pleasure of meeting her at the
Martha Stewart Blogger Event
back in August and to say that she's as sweet as the confections she conjures up would be an understatement. Stacy is extremely talented and a nice person to boot which is why I love her so much. And you won't believe the divine things she comes up with! I mean really, how super duper cute are these Oreo Marshmallow Snowmen?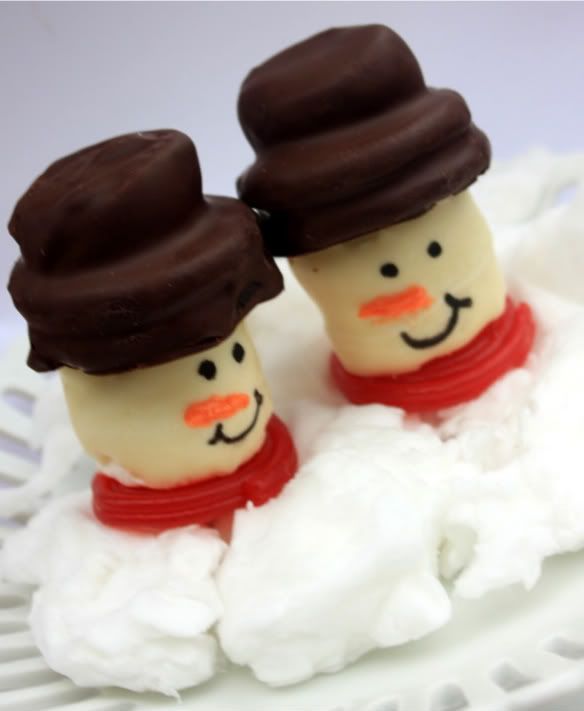 LOVE! Okay, let's turn over this post to Stacy and her fabulous sweets.
I absolutely love baking during the Holidays and enjoy giving tins of cookies as gifts to my daughter's teachers, my hair stylist, neighbors & family. I also enjoy cookie exchange parties! I hosted my first last year and I thoroughly enjoyed tasting my friends sweet treats and learning of some new cookies. So here are four of my favorite recipes to get your holiday baking started!
BISCOTTI
Biscotti is such a great cookie to make especially during the holidays because it makes for great gifts! They're perfect with your morning coffee or your evening tea.
This recipe comes from the website
Allrecipes.com
. You can chop nuts into this recipe, and instead of the anise extract add almond flavoring or maybe some vanilla. Some biscotti recipes can be challenging or intimidating…this one is not at all!
INGREDIENTS:
1/2 cup vegetable oil
1 cup white sugar
3 1/4 cups all-purpose flour
3 eggs
1 tablespoon baking powder
1 tablespoon anise extract, or 3 drops anise oil
DIRECTIONS:
Preheat the oven to 375 degrees F (190 degrees C). Grease cookie sheets or line with parchment paper.
In a medium bowl, beat together the oil, eggs, sugar and anise flavoring until well blended. Combine the flour and baking powder, and stir into the egg mixture to form a heavy dough. Divide dough into two pieces. Form each piece into a roll as long as your cookie sheet. Place roll onto the prepared cookie sheet, and press down to 1/2 inch thickness.
Bake for 25 to 30 minutes in the preheated oven, until golden brown. Remove from the baking sheet to cool on a wire rack. When the cookies are cool enough to handle, slice each one crosswise into 1/2 inch slices. Place the slices cut side up back onto the baking sheet. Bake for an additional 6 to 10 minutes on each side. Slices should be lightly toasted.
RUGELACH
This is my favorite cookie! Not so easy but the end result is AMAZINGLY SCRUMPTIOUS to say the least! Just remember - they don't have to be perfect. Honestly, it took me a few times making these to get the hang of making them pretty but the taste not matter what is the best!!
This recipe is also from
Allrecipes.com
and if you haven't made Rugelach before, read the comments at the bottom for some tricks!
Make sure you chill the dough over night! The recipe says 2 hours, but I tried that once and it didn't work so well. When it says to wrap each disk, use parchment paper to cover, then wrap the disk in plastic wrap. When you roll again, keep it on parchment paper and roll it with a piece on top. Chop the filling in the food processor too - makes it easier and well blended!
Oh, and I don't use the raisins - I use Chocolate Chips ;)
INGREDIENTS:
2 cups all-purpose flour
1/4 teaspoon salt
1 cup unsalted butter
1 (8 ounce) package cream cheese
1/3 cup sour cream
1/2 cup white sugar
1 tablespoon ground cinnamon
1 cup finely chopped walnuts
1/2 cup raisins
DIRECTIONS:
Cut cold butter or margarine and cream cheese into bits. In food processor, pulse flour, salt, butter or margarine, cream cheese and sour cream until crumbly.
Shape crumbly mixture into four equal disks. Wrap each disk and chill 2 hours or up to 2 days.
Roll each disk into a 9-inch round, keeping other disks chilled until ready to roll them.
Combine sugar, cinnamon, chopped walnuts, and finely chopped raisins (may substitute miniature chocolate chips for raisins).
Roll each disk into a 9 inch round keeping other disks chilled until ready to roll them. Sprinkle round with sugar/nut mixture. Press lightly into dough. With chefs knife or pizza cutter, cut each round into 12 wedges. Roll wedges from wide to narrow, you will end up with point on outside of cookie. Place on ungreased baking sheets and chill rugelach 20 minutes before baking.
Preheat oven to 350 degrees.
After rugelach are chilled, bake them in the center rack of your oven 22 minutes until lightly golden. Cool on wire racks. Store in airtight containers and they freeze very well.
Variations: Before putting the filling on the dough, use a pastry brush to layer apricot jam as well as brown sugar. Then add the recommended filling. You may also make a mixture of cinnamon and sugar and roll the rugelach in this prior to putting them on the cookie sheets.
These are great cookies if you want an alternative to sugar cookies. I make these in addition at the holidays for my cut out cookies and decorate them! Again with this cookie, when chilling wrap it in parchment paper, and for easier & cleaner rolling out use parchment paper.
Recipe via
Joy of Baking
(makes about 20 cookies)
INGREDIENTS:
1 1/2 cups (260 grams) all-purpose flour
½ cup of corn starch
1/4 teaspoon (2 grams) salt
1 cup (2 sticks) (226 grams) unsalted butter, room temperature
1/2 cup (60 grams) powdered (confectioners or icing) sugar
1 teaspoon (4 grams) pure vanilla extract
DIRECTIONS:
In a separate bowl whisk the flour & corn starch with the salt. Set aside.
In the bowl of your electric mixer (or with a hand mixer), beat the butter until smooth and creamy (about 1 minute). Add the sugar and beat until smooth (about 2 minutes). Beat in the vanilla extract. Gently stir in the flour mixture just until incorporated. Flatten the dough into a disk shape, wrap in plastic wrap, and chill the dough for at least an hour.
Preheat oven to 350 degrees with the rack in the middle of the oven.
Line two baking sheets with parchment paper. On a lightly floured surface roll out the dough into a 1/4 inch (.6 cm) thick circle. Cut into rounds or other shapes using a lightly floured cookie cutter. Place on the prepared baking sheets and place in the refrigerator for about 15 minutes. (This will firm up the dough so the cookies will maintain their shape when baked.)
Bake for 8 - 10 minutes, or until cookies are very lightly browned. Cool on a wire rack.
Shortbread cookies with keep in an airtight container for about a week or they can be frozen.
CHOCOLATE ESPRESSO SNOWCAPS
What would a cookie exchange party be with out a Martha Stewart recipe?!
Recipe & notes via
Martha Stewart
(makes 18)
These cookies look like little snow-covered mountains. They will keep for up to a week stored in an airtight container at room temperature. Roll each ball in confectioners' sugar twice to make sure it's thoroughly coated and no dark dough is visible.
INGREDIENTS:
1/2 cup all-purpose flour
1/4 cup unsweetened cocoa powder
4 teaspoons instant espresso
1 teaspoon baking powder
1/8 teaspoon salt
4 tablespoons unsalted butter
2/3 cup packed light-brown sugar
1 large egg
4 ounces bittersweet or semisweet chocolate, melted and cooled
1 tablespoon milk
Confectioners' sugar, for coating
DIRECTIONS:
In a medium bowl, sift together flour, cocoa, espresso, baking powder, and salt. With an electric mixer, cream butter and brown sugar until light and fluffy. Beat in egg until well combined; mix in cooled chocolate. With mixer on low, gradually add flour mixture; beat in milk until just combined. Flatten dough into a disk; wrap in plastic. Freeze until firm, about 45 minutes.
Preheat oven to 350 degrees. Line two baking sheets with parchment. Shape dough into 1-inch balls. Pour confectioners' sugar (about 1/2 cup) into a medium bowl; working in batches, roll balls in sugar two times, letting them sit in sugar between coatings.
Place on prepared baking sheets, 2 inches apart. Bake until cookies have spread and coating is cracked, 12 to 14 minutes; cookies will still be soft to the touch. Cool cookies on a wire rack.
Thanks, Stacy! Don't those recipes make your mouth water? I'm not a baker but even I can't wait to get my hands in some flour to make some of these goodies for
friends and family
oh, who am I kidding? For me, me, me! If you're a better person than I am and want to give your cookies out, Stacy is sharing two free recipe card printables from the lovely ladies at Anders Ruff. I love the
From the Kitchen Of Cards
(you can also see them in Stacy's pictures above):
And the blue and white
Cookie Exchange Set
is adorned with Ric Rac, which was actually inspired by
Gabrielle and Alaina's birthday invitation
.
A huge thank you to Stacy for sharing these fabulous sweets and the perfect free printables to go along with them. Be sure to check out
Scrumptious Swirls
for more wonderful recipes and party ideas!
This feature was written as part of
AFOMFT
's
PROJECT SECRET SANTA
to benefit
Jack's Toy Drive
. For more information on what it is, go
HERE
and if you'd like to buy a toy for a hospitalized child this holiday season, please visit the
Jack's Toy Drive Amazon Wishlist
. Prices start at just $1. Help put a smile on the face of a child who needs it this Christmas!
Images: Scrumptious Swirls, Joy of Baking, Martha Stewart &
Anders Ruff