It's Tuesday which means you takeover. Today's question comes from Sandra in Tallahassee, Florida. She e-mailed:
Dear AFOMFT, I have twins (Jacob and Justine) who are around the same age as your girls. They love to eat and will try almost anything but I feel like I'm in a rut with what I make for them. I've never been a big cook but I like to make their meals. Any suggestions for new recipes I can try that are healthy and taste good but are easy for me to make?
Sandra, I totally know where you're coming from with this post. There was a stretch there when my girls had grilled cheese, chicken fingers, meatballs or pasta almost every day because I knew they loved those foods and they were easy for me to make. But then I got
Top 100 Finger Foods: 100 Recipes for a Healthy, Happy Child
and it opened up a whole new world of fun menu options for Gabrielle and Alaina.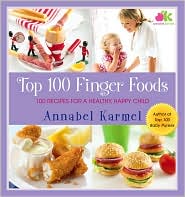 Written by children's food expert Annabel Karmel who you may have seen on the
Today Show
,
Top 100 Finger Foods
features recipes for tasty and healthy choices for breakfast, lunch, dinner, dessert and snack time. From French Toast Fingers and Tuna Muffin Melts to Carrot and Cheese Muffins and Veggie Burgers, there's something that even the fussiest toddler will love.
What I really like about the recipes in this book is that while they're "finger friendly" and easy for kids to eat, they're also really hearty and packed with flavor. Annabel shows you just how easy it is to make delicious dishes like Chinese Glazed Chicken Wings and Minty Lamb Koftas that aren't only good for little ones, but are also so yummy that you may want to make another batch for you and your husband. The Apple Parcels in particular are so delicious that I can't help but eat them myself and the girls are lucky if there any left for them at all. And best of all is that the preparation time on most of the recipes is less than 15 minutes and many of them take less than 20 minutes to cook - perfect for busy parents. The book also includes information on how to freeze large batches so you can just re-heat on busy days.
Sandra, I hope that
Top 100 Finger Foods: 100 Recipes for a Healthy, Happy Child
helps you find some new easy dishes that become family favorites. Annabel Karmel has written lots of other great children's cookbooks you may want to check out too. There's one for fussy eaters:
And another for meals on-the-go:
Food for those new to solids: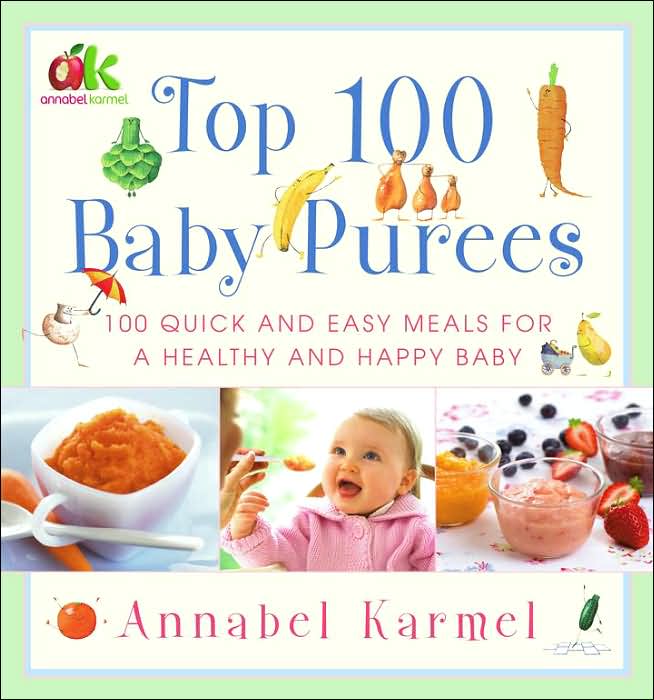 And for the entire family:
Want to give some of Annabel's recipes a try? You're in luck because we've got a copy of
Top 100 Finger Foods: 100 Recipes for a Healthy, Happy Child
to give away to an
AFOMFT
reader!
To enter, post a comment here telling me what your child's favorite food is (
this is mandatory
). For additional entries:
Subscribe to

AFOMFT

or let us know you are a subscriber
"Like" AFOMFT on Facebook -- http://tinyurl.com/AFOMFTFBFAN
Ask your friends to "like" AFOMFT on Facebook by sending them this link - http://tinyurl.com/AFOMFTFBFAN - and post a comment here with the names of each one who does. You'll earn one entry per new friend who "likes" our page and names will be cross-checked.
Follow

AFOMFT

on Twitter (@AFOMFT or click the birdie icon on the sidebar) and tweet this post by clicking the graphic above or this giveaway: #Win "Top 100 Finger Foods: 100 Recipes for a Healthy, Happy Child" by @annabelkarmel @AFOMFT - http://tinyurl.com/AFOMFT
Click here to vote for AFOMFT on Top Baby Blogs and post a comment here that you did - . You can vote once per day per computer so if you vote every day or on different computers, be sure to post one comment for each one.
Grab our button and put it on your blog or website and post a link here showing us.
Blog or post on Facebook about this giveaway with a link to this post (worth 2 entries so please post two comments) and make sure your comments include a link to your status or blog post.
Please leave
a separate comment
for each entry (two if you've blogged about the giveaway) and make sure to include a link to your tweet, blog post, etc. All entries must be posted on
AFOMFT
as a direct comment to this post.
Comments on Facebook will not count as entries.
This giveaway is open to residents of the U.S. and Canada and ends July 10th at 11:59 pm EST. The winners will be selected by random.org and announced on
AFOMFT
on July 21st. If the winners don't contact
AFOMFT
within 48 hours, a new drawing will be held so be sure to check back to see if you've won!
Images:
Annabel Karmel