Here's my round up of a few of my favorite things at this moment.
Kids App I'm Loving:
Spot the Dot from David A. Carter
. The children's author has created an app that's addictive for toddlers and adults alike.
Book I'm Loving:
I started
Faith: A Novel
by Jennifer Haigh last night and can't wait to get back to it.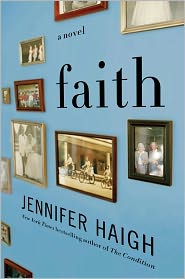 Craft Project I'm Loving:
This piece of art from
Unsimple Living
is simple and so so cool. I can't wait to melt my own Crayolas!
DIY Project I'm Loving:
Isn't this chandelier from
Hey Gorgeous
stunning? Guess what it's made from? Paint chips. I kid you not!
Purchase for the Girlies I'm Loving:
Gabrielle and Alaina got to wear their new
Lucky Cat Rain Coats from Kidorable
today and they didn't want to take them off!
Comfort Food I'm Loving:
On a rainy day like today, there's nothing I want more than a bowl of Corn and Chicken and Chowder from
Buns in the Oven
. Just look at that yumminess!
Home Organization Idea I'm Loving:
This in-cabinet measurement conversion chart and measuring spoon and cup storage idea from Infarantly Creative is brilliant!
Sweet Treat I'm Loving:
Baked by Perfection
's Peanut Butter Cup Brownies make my mouth water. I need some. Now.
Playroom Pattern I'm Loving:
I saw the pattern for these Rollie Pollies over on
So You Think You're Crafty
and immediately pinned it so I can make a bunch for the girls' new playroom. Part seating, part toy, all fun!
Cool Furniture Revamp I'm Loving:
O'verlays by Danika Cheryle
are really chic geometric patterns designed to be applied to furniture (they're made to fit certain Ikea pieces exactly) to turn plain pieces into show pieces. So fab!
I would love to hear about the things you're loving right now! Share the app, movie, book, craft idea, TV show, whatever that's got you giddy in the comments and your picks might be included in next week's
TEN ON TUESDAY
feature.
Please note that this list is made up of things I actually use, read, watch, try, etc. and truly enjoy. These opinions are my own and I was not compensated in any way to share them here.