I know, I know. This blog is supposed to be about fabulous finds for babies and kids. But you know what? Sometimes there are other things that catch my eye so once a week, I'm going to share those too. Without further ado, the first edition of
FIVE FAST FAVES
, grown up goodies I'm loving this week!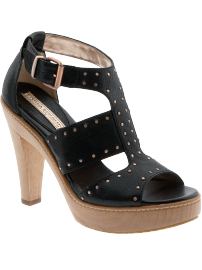 1. The Bonnie Nailhead Platform Sandals from Banana Republic
I adore these shoes. Adore! And they're part of BR's 40% off President's Day sale this weekend. MUST.RESIST.TEMPTATION!
2. The Talc Modern Boot Cut Denim Trousers from Ann Taylor Loft
I love white denim in the spring and summer (yes, I wear white before Labor Day!) and everyone in the know is saying that all-things nautical are in, in, in which makes these my ideal pair of jeans. And guess what? They're on sale for 50% off this weekend! I'm being tortured in all directions. Hmmmm, I do have a gift card to Loft that my boss got me for Christmas. I may have to bust that baby out!


3. Peonies
I just love them. And when I saw this fabulous photo on
The Hostess Blog
, it made me smile. So yeah. Peonies.
4. Fleur de Sel Caramels by Have It Sweet
When it comes to things I love, caramel is near the top of the list. Sea salt? Also pretty high up there. Put them together and what do you get? My version of sweet and salty heaven!
5. The Brocade Office Collection from the Container Store
I would get so much more work done with pretty accessories like this lace lovely on my desk. I really would. I swear!


So that's what I'm loving right now. What about you? Post a comment tell me what you've got your eye on this week!

Images: Banana Republic, Ann Taylor Loft, Hostess With the Mostess, Have It Sweet &
The Container Store