Better in Bulk
is a blog written by a stay-at-home mom with five children named "Lolli." The tagline for the site is "Kids, photography, blogging and candy are all better in bulk." I couldn't agree more!
In keeping with the bulk theme, Lolli refers to her family members on the blog by candy nicknames - Lolli (short for Lollipop) is married to CandyMan, and they have three daughters - KitKat, Necco and Reese - and two sons - Twizzler and AJ (short for Almond Joy). She writes about motherhood, shares wonderful family recipes and hosts great giveaways. But my favorite part of
Better in Bulk
is the terrific photography tutorials.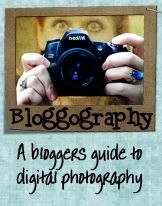 Bloggography
is run by Lolli and Beth from
Manic Mother
, and together, they walk novice DSLR owners like me through everything from ISO and shutter speed to aperture and megapixels on both Canon and Nikon cameras. And each week's lesson comes with a photo challenge where you can put your new knowledge to the test. If you're anything like me and have been shooting blindly with your DSLR, check out the
Bloggography
tutorials. I'm already seeing an improvement in my pictures after just a few lessons. Guess photography is
Better in Bulk
!

Images:
Better in Bulk